Features of Polaris Office & viewer kit
About Polaris Office Kit

POLARIS Office Enterprise is a mobile office solution that provides enhanced productivity and document security.
With powerful viewing and editing features and a unique document encryption technology, POLARIS Office Enterprise protects sensitive business documents with a rock-solid performance. POLARIS Office Enterprise can be purchased in the form of SDK for an easier integration to customer's system.

Document Data Memory
Stream Management

This manages document data received from the document server as a stream and does not remain any document files in file system.
Encryption

Documents are protected by permanent encryption. Encrypted documents can only be read by Polaris Office Enterprise Engine and the stored device.
Provided SDK

With the SDK, users can easily integrate Polaris Office's features with other enterprise solutions.
Polaris Office Kit SDK Construction
Polaris Office Kit can be combined easily for various applications & solutions. Office functions may provide in full-screen or partial screen of applications. It also provides dark & light UI theme and support custom UI control. Polaris Office Kit - includes SDK binary and Sample code, sample app - can integrate with your app very easily. Polaris Office kit support to edit & view of the document, Polaris Viewer Kit only supports to view.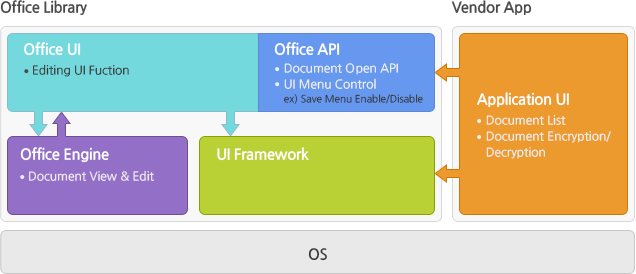 Examples of use & Product Configuration

This manages document data received from the document server as a stream and does not remain any document files in file system.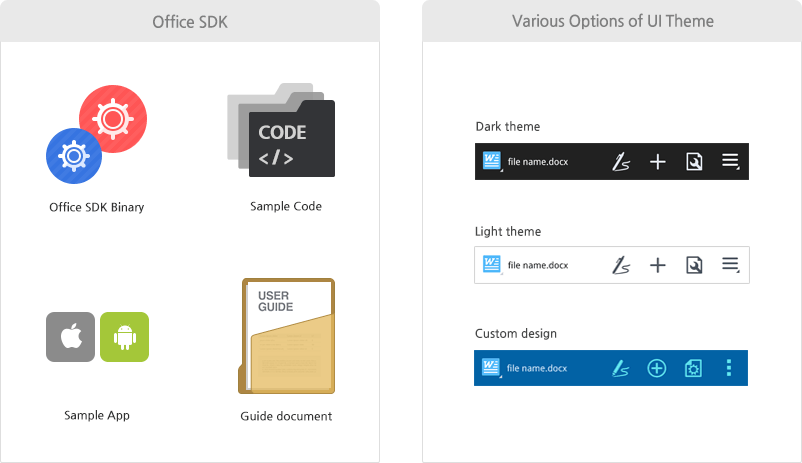 Features
POLARIS Kit Editor
Polaris Editor Kit is a solution that provides the Polaris Office's Full Editor version as a kit. It is the easiest and strongest office product that has been optimized for the mobile environment. The provided Editor allows you to easily create various documents, including Microsoft Word, Excel, PowerPoint, and PDF; arrange data quickly and accurately; and it allows you to add fabulous effects to your presentation, all on your smart device. The Viewer is also provided to review documents quickly and efficiently.

Opening Documents and Creating New Documents

Key office document files such as Microsoft Word, Excel, PowerPoint, as well as TXT, PDF, and RTF can be viewed with Polaris Kit and documents can be created and saved as docx, xlsx, or pptx documents.
Editing Text and Applying Various Format Styles

Various text properties including size, color, and width can be edited. In addition, rich formatting can be applied by sorting paragraphs and inserting various bullets.
Inserting Various Objects

With just a few taps, various objects such as shapes, images, tables, and charts can be easily inserted. You can also set advanced styles, including Fill Color, Outline, Shadow, and 3D Effect.
Quick and Accurate Data Analysis

For Excel format documents, data can be easily rearranged by using Sort and Filter, and data can be quickly analyzed by applying key formulas.
Edit Slide and Slide Show

You can insert or edit slides for a gorgeous presentation, write on the Slide Note, and make your presentation as a slide show anytime and anywhere.
Smart Pen Tool Feature

The Polaris Kit-exclusive special pen tool feature allows you to draw various shapes directly or select shapes for easy preparation of documents on smart devices.
Annotation

On the Slide Show, you can insert Ink Annotations and PDF Annotations to quickly and easily add comments to documents.
Convert to PDF

Word, Excel, and PowerPoint documents can be easily converted and saved as PDF files.
Page Layout Settings

Set up various page layout settings such as Document Size, Document Direction, Number of Columns, and Margin to create a document with an advanced layout.
POLARIS Kit Editor
Polaris Viewer Kit is an SDK solution that provides the Polaris Office's Viewer version as a kit for quick views of original documents on your mobile device. Various documents formats can be quickly and accurately viewed as the original document anytime and anywhere and the Annotation feature allows comments to be added easily. Polaris Viewer Kit is a powerful document viewer solution for your application.

Viewing Various Document Formats

Document formats including doc, docx, xls, xlsx, ppt, and pptx, as well as PDF, TXT, JPG, and PNG can be viewed quickly and accurately as an original document.
Precise Document Rendering

The layouts and styles of the original document are rendered for clear communication to be established with the document.
Zoom in, Zoom out, and Text Reflow

Zoom in/out features including Pinch Zoom, Fit Pages, Page Width Alignment, and Text Reflow features are provided to allow easy viewing of documents on your device.
Hyperlink and View Note

Hyperlinks included in documents are supported and UI is provided for easy viewing of the note included in the document.
Quick and Easy Content Search

The search feature is provided to quickly find contents within documents. The Match Case, By Word, and Find Previous/Next UI is provided.
Filter and Freeze Panes

Auto Filter and Freeze/Unfreeze Panes features are provided for Excel documents, to allow convenient viewing of complex data.
Slideshow

PPT or PPTX format documents can be shown as a presentation with the Slideshow feature. Laser Pointer and Ink tools are provided for Slideshow.
View Document Info

Various View Document Info features such as File Name, Format, Location, Size, Date, Title, and Author are provided.
Convert to PDF

Word, Excel, and PowerPoint documents can be easily converted and saved as PDF files.